Ad blocker interference detected!
Wikia is a free-to-use site that makes money from advertising. We have a modified experience for viewers using ad blockers

Wikia is not accessible if you've made further modifications. Remove the custom ad blocker rule(s) and the page will load as expected.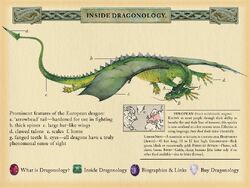 Dragonology: The Complete Book of Dragons is a book on the science of 'Dragonology'. It was first published in 2003, and was re-published in 2006. It is written in a 19th Century style. This is because it is supposedly based on a rare book published in 1896. This book's front
cover
is red with
European Dragon
flying over a village inside a circle that is surrounded by another
European Dragon
. The supposed author of this book is "Dr. Ernest Drake".We do not know if he actually existed or not. He is supposed to be part of the "Secret and Ancient Society of Dragonologists" (
S.A.S.D.
).
Other Books

The books below are by Candlewick Press.

Sets, Games, and Toys

Series 1 Dragon Toys
Series 2 Dragon Toys
Miniature Dragon Toys
Dragonology: Code-Writing Kit
Dragonology: Tracking and Tamming Dragons 1: European Dragon Book and Model Set
Dragonology: Tracking and Tamming Dragons 2: Frost Dragon Book and Model Set
Dragonology: Field Guide to Dragons
Obscure Spells and Charms of Dragon Origin: A Dragonology Kit
Upcoming Dragonology Video game for the Nintendo DS, Wii and PC
Annual Dragonology Calendars
Also See