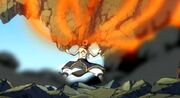 Is a form of
Dragon Slayer Magic
Description
Fire Dragon Slayer Magic is a type of Magic that grants the user various characteristics typical of a fire dragon: lungs capable of spewing flames, scales that grant protection against fire, and nails covered in flames. Concretely, Fire Dragon Slayer Magic allows the user to produce and control fire from any part of their body, which can be used both in melee and as a ranged form of offense. The generated flames can be manipulated in a wide variety of ways, their "type" can be changed at will, and they can even be given a somehow material consistency. Such fire seems to have a "blunt" effect to it, seemingly causing hitting damage alongside burnings. The fire produced by this type of Magic produces much more heat than a standard one, with even the user's body temperature being capable of melting iron; not only that, but the user's fire is strictly connected to their feelings, meaning the more emotional they get, the more their flames will increase exponentially in temperature, something that is referred as the "Flame of Emotion".
In addition, the user can consume external sources of fire to restore their body to a healthy state and regain their reserves of strength, something that also makes them immune to most types of fire, due to their capability of nullifying fire-based attacks by sucking them in and eating them; the consumed fire also seems to possess a different "taste" according to its "quality".However, the user can't use their own flames, or things set on fire by them, to reinvigorate themselves
Ad blocker interference detected!
Wikia is a free-to-use site that makes money from advertising. We have a modified experience for viewers using ad blockers

Wikia is not accessible if you've made further modifications. Remove the custom ad blocker rule(s) and the page will load as expected.