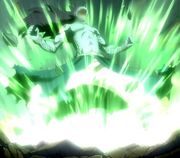 Is a style of the
Dragon Slayer Magic
Description
A type of Magic which grants the user some characteristics unique to iron dragons, allowing them to incorporate the element of iron (and, by extension, of steel) into their body, granting them the ability to change parts of their body[ (or the entirety of it) into iron, which can be shaped in a number of forms for different purposes, and to produce iron objects. The Magic relies around the use of iron for both offense and defense, with the user being capable of creating a wide array of weapons from their body to attack the opponents both in melee and from a distance, and to cover their body with iron in order to dramatically increase their defensive power, at the same time greatly boosting their offense as well.
Ad blocker interference detected!
Wikia is a free-to-use site that makes money from advertising. We have a modified experience for viewers using ad blockers

Wikia is not accessible if you've made further modifications. Remove the custom ad blocker rule(s) and the page will load as expected.